By Dave Landry | Uncategorized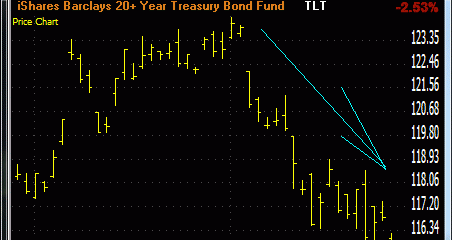 It was off to the races on the open but the indices fizzled out. Still, they managed to tack on nice gains nonetheless.
As mentioned yesterday, bull markets often start weak and then end strong. We obviously had just the opposite on Tuesday. Again though, the market was able to hold on to some decent gains.
Better than a poke in the eye I suppose.
Bonds got whacked. This action has them breaking down to fresh lows. They look done. Stick a fork in them. This means that rates are headed higher. This isn't the end of the world but it sure looks like it for interest sensitive areas such as Real Estate and Utilities.
Most other sectors still remain in solid uptrends. As usual, follow through is key. If they can continue to rally out of their recent pullbacks-like the overall market—then the trend remains intact.
Futures are soft pre-market so we might get that start weak/finish strong day that I like.
So what do we do? Continue to look to add on the long side. Since the futures are weak pre-market, make sure you wait for entries. If your just now joining the party, waiting for entries in and of itself might keep you out of trouble. On existing positions you know the routine: take partial profits as offered and honor/trail your stops higher. It is that simple. I never said easy.
Best of luck with your trading today!
Dave